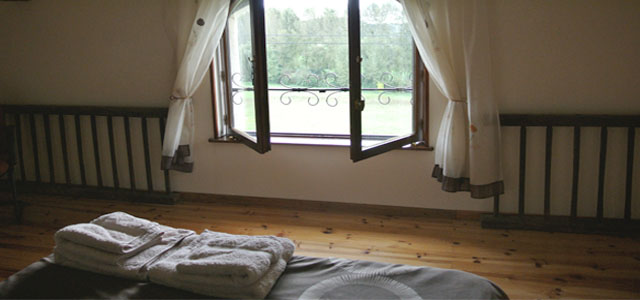 [tabs]
[tab title="About Gite Two"]
This two bedroomed gite has two double beds accommodating up to four adults. It may be possible to include a downstairs twin bedroom and additional shower room if more space is required.
It features a spacious lounge area, modern bathroom, fully fitted kitchen and downstairs toilet.
It even has an authentic manger built into the wall of the lounge since this used to be a cattle barn!
There is an attractive breakfast room leading out to the swimming pool at the rear, so along with the courtyard seats and private patio area you'll be spoilt for choice about where to sit down and sip your holiday drink.
Access to the bedrooms and bathroom in this particular gite is via a spiral staircase so  would not be recommended for anyone with mobility concerns.
[/tab]
[tab title="At a Glance"]

[/tab]
[tab title="Photo Gallery"]
Click on the images below to take a closer look
[/tab]
[/tabs]